Cruise BC's Historic West Coast!
Cruise, relax and explore the beautiful scenery on the west coast of Vancouver Island, BC aboard the MV Uchuck III, a 136-foot wooden hulled maritime vessel that provides passenger and freight service through historic Nootka Sound, Esperanza Inlet, and Kyuquot Sound. The MV Uchuck III is also used by intrepid kayakers who want to be wet launched at remote locations along the Uchuck's route.
This is an authentic West Coast Cruise! Stops are made along the routes to drop off freight at remote fish farms, logging camps, resorts and maritime villages that rely on the MV Uchuck III as a lifeline as many of these remote destinations have no road access. Passengers enjoy watching the entire process, from maneuvering the vessel to remote docks to offloading freight from the cargo hold.
The west coast of Vancouver Island is home to black bears, eagles, sea otters, Pacific dolphins, gray whales and killer whales so be sure to bring your binoculars and your camera! Our Adventure Cruise Schedule outlines the day and overnight cruises available through some of Vancouver Island's most spectacular scenery, perfect for a short West Coast adventure tour or family vacation.
---
Have a look at our newest video highlighting the Friendly Cove Day Cruise!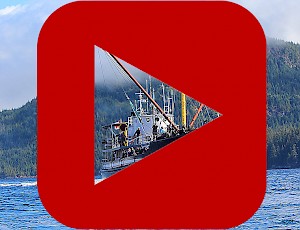 This 3 minute video gives you a taste of what to expect cruising aboard the MV Uchuck III to Friendly Cove. Cruise Nootka Sound, watch for wildlife including whales, explore Friendly Cove (Yuquot), the Lighthouse, Interpretive Centre and the beach. To learn more about this cruise click here.
---
Nootka Sound Day Cruise (Year Round)
Tuesday cruises through Nootka Sound. Witness the day to day activities of a working coastal vessel as she picks up and drops off supplies at fish farms, logging camps and remote resorts along the route. 
Friendly Cove Day Cruise (Seasonal)
Wednesdays and Saturdays cruise Nootka Sound to Friendly Cove (Yuquot), historic birthplace of British Columbia and ancestral home to the Mowachaht / Muchalaht First Nations people where European Traders made first contact. 

Kyuquot Adventure Cruise (Seasonal)
2 Days - Thursday / Friday (March to October) This cruise gives passengers an opportunity to see a lot more of Vancouver Island's Wild West Coast and a chance to sit back, relax and enjoy the view of the spectacular coastal scenery and marine wildlife along the way. 

Esperanza Adventure Cruise (4 Sailings)
3 Days – Thursday / Friday / Saturday, 4 Exclusive Summer Sailings in June and September. This cruise covers the same route as the Kyuquot Adventure Cruise but with a second night's stop in Tahsis or Zeballos. 
West Coast Adventure Cruise (One Trip Only!)  
(May, 2018) Victoria - Gold River - Victoria If you are ready for a real off shore experience join us on our three day, two night West Coast Adventure Cruise.